About Us.
Viable Design is a small operation set in south-central Virginia. We are the Hawkes — Kevin and Jo, husband and wife, soulmates, best friends. Where the design business is concerned, we collaborate a lot on the overall concepts, design philosophy, and accessibility, to name a few things. Then, I handle most of the practical design, writing, and coding, while Kevin handles the books, editing, and other quality-control issues.
When I was searching for a new name for my design business, which had been called joseyhillDesigns (per my former surname), I searched dictionaries and thesauri out the yin-yang. It had to be the perfect word that would really encompass everything design could be. The word viable kept coming back, and, in the end, it was just right in every sense.
Merriam-Webster defines the word viable in a number of ways:
capable of living
capable of growing or developing

capable of working, functioning, or developing adequately
capable of existence and development as an independent unit

having a reasonable chance of succeeding
financially sustainable
And that's exactly what we want our design to be: living, growing, successful design that is financially sustainable!
We have a special heart for Christian ministries — churches, community outreach, missions, etc. — and other nonprofit organizations that benefit humanity and the animal kingdom. We give discounts to these types of organizations, so please let us know when you contact us.
Viable Design is a family-oriented business. We believe in fair practice, and we do not discriminate based on disability, gender, age, race, creed, or color. However, we do reserve the right to refuse service in certain situations. Specifically, but not inclusively, we will not produce materials related to pornography or anything deemed unlawful or immoral.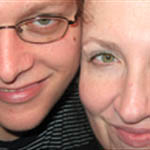 My design roots began tunneling way back when I was just a little girl, drawing posters and advertisements for my Barbie doll's movies and fashion shows, and developing catalog pages and logos for my fictitious clothing line. (I know; I was "a little off-center" from the beginning, as Kev-Kev would say...)
I've been working in print design since college, where I starting making posters for various campus clubs and for the rock band I was singing with at the time. I was also a page editor for the newspaper staff; that's where I started using computers for design. Around that same time, I was asked to create a CD cover design for a musician friend, on whose recordings I sang. I ended up doing several for him, as well as cover and poster designs and promo packs for some other local musicians, including for bands I sang with.
I started designing Web sites in 1999, during a medical leave from my teaching job. I had just suffered the loss of my baby, who died when I was three days overdue with him. I'd had a placental abruption and lost so much blood that I almost died along with him. I needed a way to turn my grief into remembrance, using my creativity to commemorate his memory, and I taught myself HTML. I firmly believe it was great grief therapy.
Before, during, and even after I earned my B.A. in English, Journalism, and Communications, I worked waiting tables; selling clothes, shoes, and accessories; DJing for country AM radio; doing ad voice-over work for the local cable TV station; and singing and recording. For about a year out of college, I wrote for a small-town newspaper, where I was able to take and develop my own pictures, as well as edit and layout pages. Since 1997, I've been working as a high-school English teacher, also serving as adviser for several yearbook and newspaper staffs. I have a great love for language, literature, and learning.
Kevin is my knight in shining armor, the most honorable and trustworthy person I've ever had the pleasure to happen upon. Although he loves me regardless, he is actually happiest when everything is in its place and done just right. This makes him a natural manager and quality-control guy. He has more than nine years of managerial experience, in fact, but has worked since 2003 as a correctional officer, a job that allows him to hone his socio-psychological intuitions.
Although Kevin took some programming classes in college, most of his experience with computers has been self-taught and hands-on. His analytical nature, however, is perfect for calculations and simulations. He can spot a potential problem a mile away and figure out a multitude of ways around it before it becomes a problem, which saves everyone a lot of time, energy, and money in the end! Kevin's favorite things (aside from ME and our kids) are truth, honor, tigers, and noiseless kids' toys. =) He also enjoys collecting marbles.
Kevin and I both have been playing music since childhood. These days, aside from the occasional get-together or recording sit-in, Kevin will pull out his acoustic while I'm working on the computer. Some days, we'll play through our repertoire; others, we'll work on new songs we want to learn; and still others, we'll work on new collaborative works. Sometimes, we get the kids involved; mostly, they're more interested in what's on TV (Ry, 14), working puzzles (Lukie, 3-1/2), or mowing the carpet (Attie, 1-1/2).
The last time we played out anywhere was New Year's Eve 2004 at The Purple Onion (now defunct) in Danville, Va., with Mike and Kristie Strange, my former bandmates in local band, Flaming Blue Iguanas. (Hey! It's hard to find time with full-time jobs, a design business, and three — handsome, sweet-as-can-be — boys to raise!) The only performance Kevin and I have on the agenda at present is the one we'll give to whoever wants to listen (the squirrels?!) in Washington Square Park, Greenwich Village, NYC, sometime the last week or so of July. ;)
Kevin started playing guitar with his renowned banjo-playing father, Ryland Hawker, when he was about thirteen. Around the same time, he won first place in the Youth Vocalist category at the Virginia Folk Music Festival. He has shared the stage with world-class musicians like Ronnie Bowman and The Lost and Found, the Osborne Brothers, Ralph Stanley, the Virginia Squires, Larry Sparks, the Nashville Bluegrass Band, Dave Evans, David Holt, and the Country Gentlemen with Charlie Waller.
I first sang in church when I was about ten, and then sang with my first band — a local bluegrass group called Westfork — when I was eleven. A few years later, I sang with a contemporary Christian band called Stainless, and when I was eighteen, I joined my first rock band, Dreams. Through the years, I've been able to "open up" for a number of notable bands, including .38 Special, Steppenwolf, The Guess Who, and The Marshall Tucker Band — all with the Iguanas. And in 2001, I was able to sing at the New York City Hard Rock Cafe with Fryed Chickin, a band which included Carlos Morales, who had performed, written, and toured with Julian Lennon earlier. We also recorded much of the "Born in a Barn" CD at Flat Five Studio in Salem, Va.